Apartment am Geigenbühel-I
Luxury Apartment: Am Geigenbühel I

3-room luxury apartment in modern high equipment, 2013 compl. renovated, for 2 to 6 people (75 sq) with south-facing 10 sq covered balcony, electric fireplace, ski/Bicycle room, sauna use and impressive Alpine panorama in a quiet but central location.
3 min to the nearest shops and restaurants, to the city center, to the golf course, skibus, close to ski-lifts,cross-country skiing, walking and (E)-bike trails.
View from Rosshütte to Olympia ski-jump.
spacious, modern leather sofa with chaise longue and integrated extendable double bed for 2 people, dining table (1.80m to 2.20m) with 6 chairs. Of two seats, the beautiful panoramic views can be enjoyed from the Rosshütte to the Gschwandtkopf. The living room has a sideboard with 47" 3-D LED flat screen, BluRay-DVD player, stereo, a desk with Wi-Fi, Skype, fax and phone for incoming calls, copier and a cozy electric fireplace. In the pantry are current DVDs, CDs, a small library and boarding games.
The open quality trademark kitchen is fully equipped: dishwasher, microwave, fridge, separate freezer, oven, stove, coffee maker, blender, toaster, soda stream, etc … as well as numerous new kitchen utensils.
One bedroom is furnished with a boxspring double bed and a large closet with a full length mirror, a safe and a 22" LCD TV.
In additional guest room or children's room there are 2 single-spaced boxspring beds with a 22" LCD TV and a wardrobe with a full length mirror.
In the bright corridor there are a large open wardrobe with a light full length mirror and drawers
The exclusive new designed bathroom with bath and shower (Rain Dance), WC, and illuminated vanity mirror wardrobe, hair dryer, makeup mirror, etc … offers much luxury comfort.
10 m² with 1 reclining chairs, 1 table, 4 chairs and a nice View to Geschwandkopf Mountain.
Baby / Toddler Equipment:
On request there are a cot (60 x 120 cm) and a adjustable chair for kids (for free).
Before the house there is parking. Sauna and dryer can be used with coins. There is also a Ski cellar, a table tennis-, a bicycle- and a common room. A travel cot and a high chair can be provided on request.
free Internet WLAN / WIFI
In the apartment there are many current DVDs, CDs, a small library as well as social games and toys for children and adults At the apartment is located in the basement of a separate washer and dryer and a ski storage.
Seefeld-Ferienwohnung-Geigenbuehel-I
---
Pricelist for 2019 / 2020 / 2021 / 2022 (Prices Validity date 05.12.2018)
Luxury flats Seefeld (Tirol)
---
Luxury apartement "Am Geigenbühel I und II" in Seefeld / Tirol
3 Rooms, (2 Bed room) ca. 75sq, 1-6 Peoples with South balcony, Sauna
All season prices are for 2 people. including additional costs. electricity, heating, Internet
parking place
Am Geigenbühel I und II period of time
Price
02.12.2018 – 22.12.2018
120,– €
Winter pre-season
27.03.2021 – 03.07.2021
110,– €
Summer pre-season
03.07.2021 – 11.09.2021
130,– €
Summer main-season
11.09.2021 – 18.12.2021
110,– €
Winter pre-season
18.12.2021 – 06.01.2022
300,– €
christmas / new year
06.01.2022 – 29.01.2022
150,– €
Winter pre-season
29.01.2022 – 26.02.2022
170,– €
Winter main-season
26.02.2022 – 05.03.2022
250,– €
Faschingsweek
05.03.2022 – 26.03.2022
150,– €
Winter post-season
26.03.2022 – 25.06.2022
110,– €
Summer pre-season
25.06.2022 – 10.09.2022
130,– €
Summer main-season
10.09.2022 – 17.12.2022
110,– €
Winter pre-season
17.12.2022 – 08.01.2023
300,– €
christmas / new year
Extra for additional Person
25,– € per night and per person
(Children under 6 years are free)
Under occupancy surcharge
200,– € per week
Depending on the season, with 4 persons
an under-occupancy supplement will be charged
Dog allowed
10,– € per night and Dog (please bring your own towels)
final cleaning
120,– €
Deposit
300,– €
Tax (from the age of 15)
2,80 € per day and person
Sauna, washer
Available with coin slot
The above information regarding the conditions for hiring seasonal price represents only a summary and not a concrete offer rental., We will call you to request a final price for the time you requested.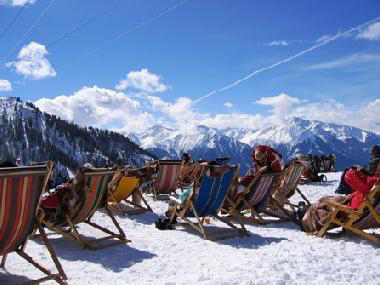 Amid the unique Tyrolean mountain world is the Seefeld Plateau, at about 1200m above sea level. Both in winter and in summer, this region offers a stunning, unspoilt scenery and enables quality of life at the highest level, such as: golfing, horseback riding, skiing, hiking, paragliding.